Engineering Services for product manufacturers, industrial
equipment manufacturers, and technology providers
Delivering cost and time-to-market advantage through innovative ideas,
latest technology, and a global talent pool.
Merraky Engineering Solutions is committed to delivering best-in-class engineering in Embedded Systems, Mechanical Design, and Digital Engineering. The company is founded by a team of professionals with a track record of successfully establishing and managing engineering service businesses for over 25 years. Headquartered in Michigan USA, the company is funded by private equity investors from the United States.
Merraky Engineering Solutions established its initial presence by acquiring companies in India, the UK, and the USA. Global operations of Merraky Engineering Solutions enables deployment of best-cost engineering talent without compromising on the skill levels of the engineering team. Merraky Engineering Solutions develops and retains industry specific engineering expertise in its global competency centres across US, UK and Italy.
The company engages with customers of varying sizes and complexity to speed up their time to market. The company's unique and time-tested delivery model "The Merraky Engineering Delivery Model" enables augmentation of Merraky's engineering teams with clients engineering teams. The benefit of a synchronized "Client-Merraky Team" facilitates quick ramp-up and knowledge transfer with the client organization retaining the core engineering know-how within its teams. The model also enables the client's team to focus on engineering efforts that are core to its business success. As the engagement gains maturity, Merraky's engineering teams become a seamless extension to the client's engineering organization.
Merraky is headquartered in Michigan, USA, with global operations in UK, USA, India, and Italy.
Our Engineering centers in India:
Bengaluru, Karnataka,
Coimbatore, Tamil Nadu
Thiruvananthapuram, Kerala
Be the experiential platform to engage the Body, Mind, Heart and Spirit.
Building a culture that empowers the most important part of the business, its human capital. We endeavor to create value beyond the imaginable. The culture of the company will be centered around addressing the needs of the body, mind, heart, and spirit. A balanced way of addressing the body, mind, heart, and spirit will create higher productivity, long term loyalty, care for service quality and importantly a very profitable business with smiles on every stake-holder's face.
Why Merraky Engineering Solutions?
Quality Management
Systems
Merraky Global Engineering Model – Value Proposition
Merraky Global Engineering Model delivers operational cost savings ($) and reduces time-to-market (T) with no
compromise in service quality (Q)

Delivering operational cost savings by leveraging India's talent pool for execution which are available at a lower cost
Reducing Time to Market by following the sun to deliver 16 hours of Engineering per day (100% more)
Drawing engineering teams across Merraky's global expertise centres to deliver high capability in product development and project management
Merraky Delivery Model – Key Elements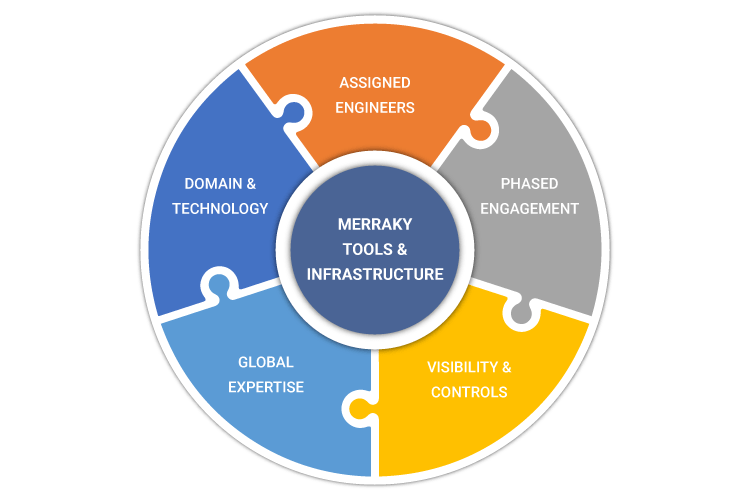 Onboard engineering talent and develop infrastructure (e.g. Labs) as required to support client's engineering needs.
Draw talent from expertise centres of Merraky across Europe, US, Italy and India for technology and/or expertise.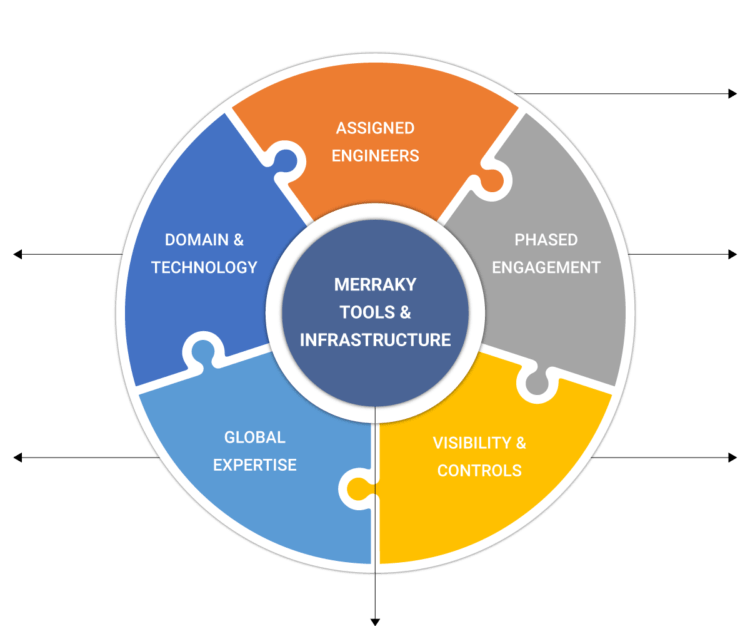 A team of engineers dedicated to client's engineering team with flex resources deployed to support workload peaks.
Structured and templatized approach to engage, build and mature the offshore engineering teams.
Performance metrics and dashboards to provide visibility & control across the hierarchy of client organization.
Merraky specific data management, communication tools and process to enable global engineering.